THE ASCENT TO SUMMERLAND – 2021 EU TOUR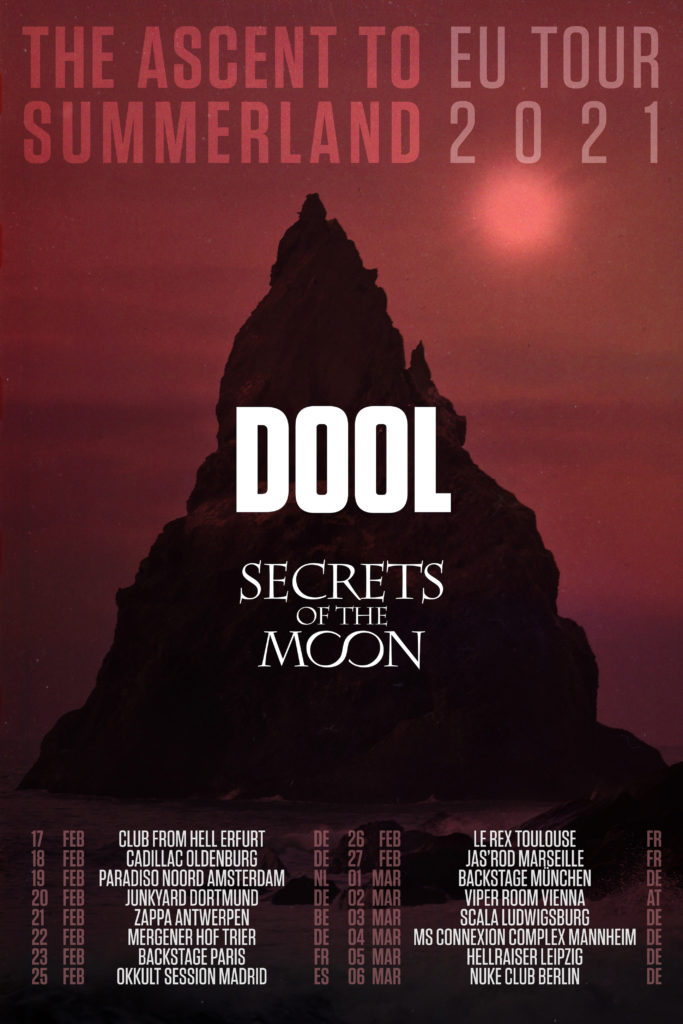 After having to cancel our album release tour last April, we did not sulk in 'what-could-have-been'. We made the best out of a bad situation, resulting now in a double-bill EU tour with our label buddies and friends in the illustrious Secrets of the Moon. Honestly, this couldn't have turned out any better and we can't wait to share the sounds of 'Summerland' with you on stage from this February on.

A deep bow to our booking agency District 19 and all venues and parties involved in this tour for their hard work and no-bullshit attitude. This is the new wave. Looking forward to seeing you out there.

THE ASCENT TO SUMMERLAND 2021 EU TOUR

Feb 17 – Club From Hell – Erfurt, DE
Tickets: https://bit.ly/3d38lws

Feb 18 – Cadillac – Oldenburg, DE
Tickets: https://bit.ly/3eaIQdY

Feb 19 – Paradiso Noord – Tolhuistuin – Amsterdam, NL
Tickets: https://bit.ly/30NCDRc

Feb 20 – JunkYard – Dortmund, DE
Tickets: https://bit.ly/30Mbq1r

Feb 21 – Kavka Zappa – Antwerpen, BE
Tickets: https://bit.ly/3d8Jp6E

Feb 22 – Mergener Hof – Trier, DE
Tickets: https://bit.ly/3fy7UMo

Feb 23 – O'Sullivans Backstage By The Mill – Paris, FR
Tickets: https://bit.ly/30M8txX

Feb 25 – Okkult Session – Madrid, ES
Tickets: TBA

Feb 26 – Le Rex de Toulouse – Toulouse, FR
Tickets: https://bit.ly/2Y6DV8k

Feb 27 – Jas'Rod – Marseille, FR
Tickets: https://bit.ly/2Azof4D

Mar 01 – Backstage München – München, DE
Tickets: https://bit.ly/3fxOOpo

Mar 02 – Viper Room Vienna – Vienna, AT
Tickets: https://bit.ly/37AjQdu

Mar 03 – Scala Ludwigsburg – Ludwigsburg, DE
Tickets: https://bit.ly/2UOsfor

Mar 04 – MS Connexion Complex – Mannheim, DE
Tickets: https://bit.ly/3d8mGaZ

Mar 05 – Hellraiser Leipzig – Leipzig, DE
Tickets: https://bit.ly/3daUyEa

Mar 06: Nuke Club – Berlin, DE
Tickets: https://bit.ly/2C7OLSO